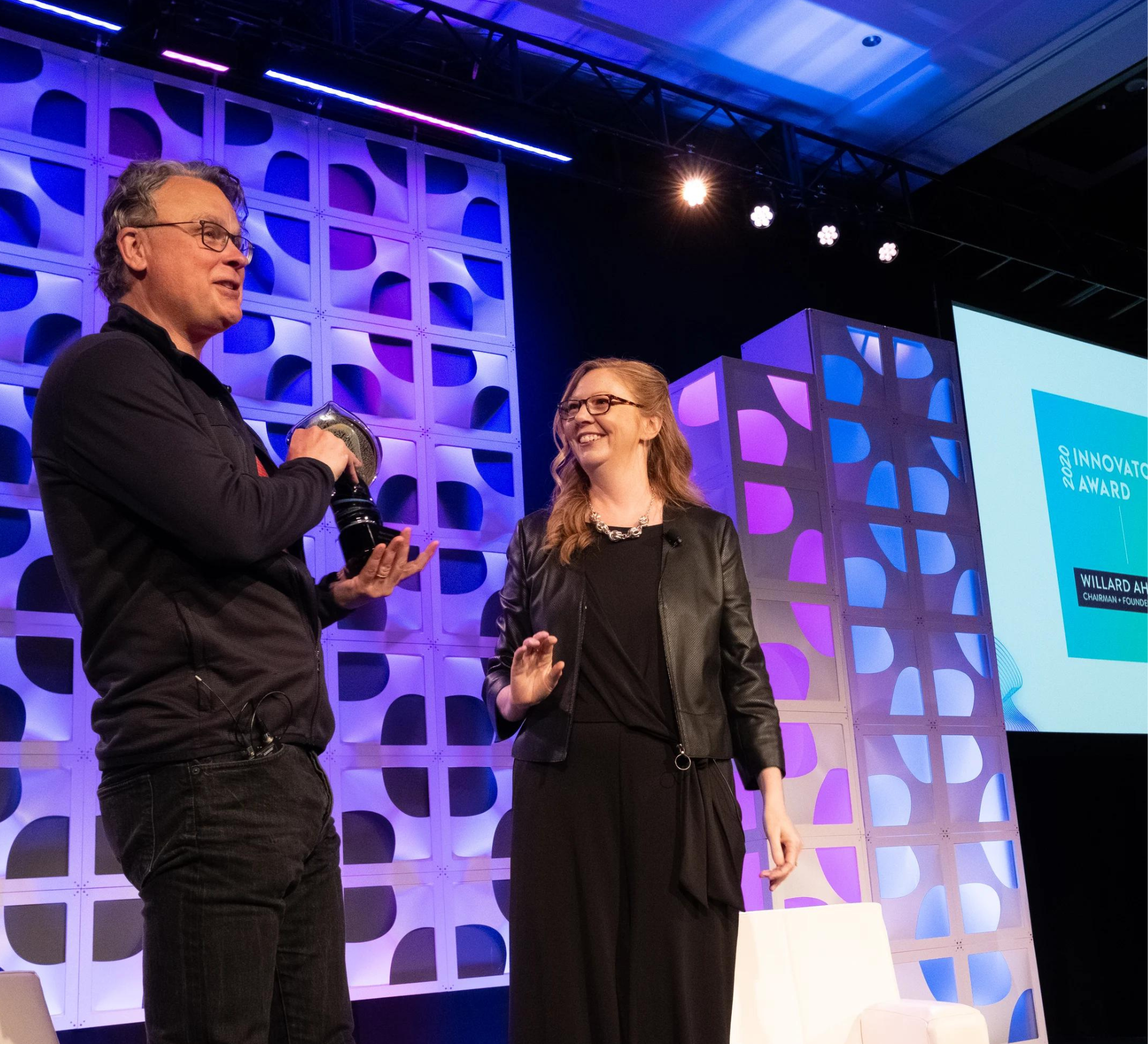 Willard Ahdritz Receives Innovator Award at Music Biz Conference
MAY 17, 2023 - After Willard Ahdritz's keynote at the 2023 Music Biz Conference in Nashville last evening, he received the association's Innovator Award.
Speaking on stage, Ahdritz discussed a key strategic part of Kobalt he founded in 2015, AMRA, a leading global digital collection society, along with his views on the future of the music industry. 
Commenting on the award, Ahdritz said, "With over 20 years of working for changing the industry to be a more fair and transparent industry using big tech to be able to run it, I am very happy to receive this award. As I noted on stage, we are in the middle of this big digital transformation and there are still many more opportunities for innovation and monetization for the music industry. We at Kobalt and AMRA will continue to inspire and pioneer a great industry for all creators and rights owners.
"It's safe to say that the music industry as we know it today was uniquely shaped by the pioneering mind of Willard Ahdritz," commented Music Biz President Portia Sabin. "His foresight regarding the coming changes in the marketplace combined with his ability to reimagine standard practices has been a dynamite recipe for commercial success. For these reasons and more, we're honored to present Willard with Music Biz's Innovator Award."
Music Biz's Innovator Award honors those who seek to challenge the standards of music creation and commerce, pushing the boundaries of what is possible with astounding results. The first Music Biz Innovator Award was given during Music Biz 2015 to Jack White — esteemed songwriter, producer, and founding member of The White Stripes and The Raconteurs — for the ULTRA LP release of his Lazaretto solo record, which uniquely married the classic vinyl format with modern day technology.
ABOUT KOBALT
Kobalt is a music company powered by innovative technology created as an alternative to the traditional music business model.  The company has become the leading independent music publishing destination for artists, songwriters, and publishers. Across 13 global offices, Kobalt serves over 700,000 songs, representing some of the biggest songwriters in the world, including Roddy Ricch, Max Martin, FINNEAS, Karol G, Andrew Watt, Stevie Nicks, Phoebe Bridgers, The Lumineers, Gunna, Justin Quiles, The Foo Fighters, Paul McCartney, and many more. On average, Kobalt represents over 40% of the top 100 songs and albums in the US and the UK.
Kobalt continues to drive innovation in music through Kobalt's unique services and technology platform that tracks and collects royalties for the trillions of micro-payments in digital music today. The company continues to transform the industry, most recently via AMRA, its global digital music collection society designed to maximize value for songwriters and publishers in today's digital age, while providing the highest level of transparency and efficiency. For more information about Kobalt, please visit www.kobaltmusic.com.
About Music Biz 2023
After its highly successful return to an in-person format in 2022, Music Biz 2023 will take place May 15 – 18, 2023 at the JW Marriott Nashville. The organization's flagship event will once again deliver four days of industry-defining conversations and connections, plus important discussions on how our industry may evolve to better serve the needs of all music professionals. Visit musicbiz2023.com for the conference agenda, event registration & lodging information, and more.
Also returning in 2023 is the second edition of the Association's crowd-sourced Bizzy Awards program, honoring music companies & individuals who are advancing commerce in the music industry and making a difference in diversity, equity & inclusion efforts. The 2nd Annual Bizzy Awards ceremony will take place on the evening of Wednesday, May 17 and will be hosted by Fitz and the Tantrums co-lead vocalist, Elektra solo recording artist, and founder of Diversify the Stage, Noelle Scaggs.
About the Music Business Association
The Music Business Association (Music Biz) is a not-for-profit membership organization that advances, promotes and invests in the future of the music business by providing a trusted forum where ideas and cooperation flourish. Through events, education and engagement, the Association brings together the full breadth of the industry for unparalleled access to networking, resources and thought leadership.